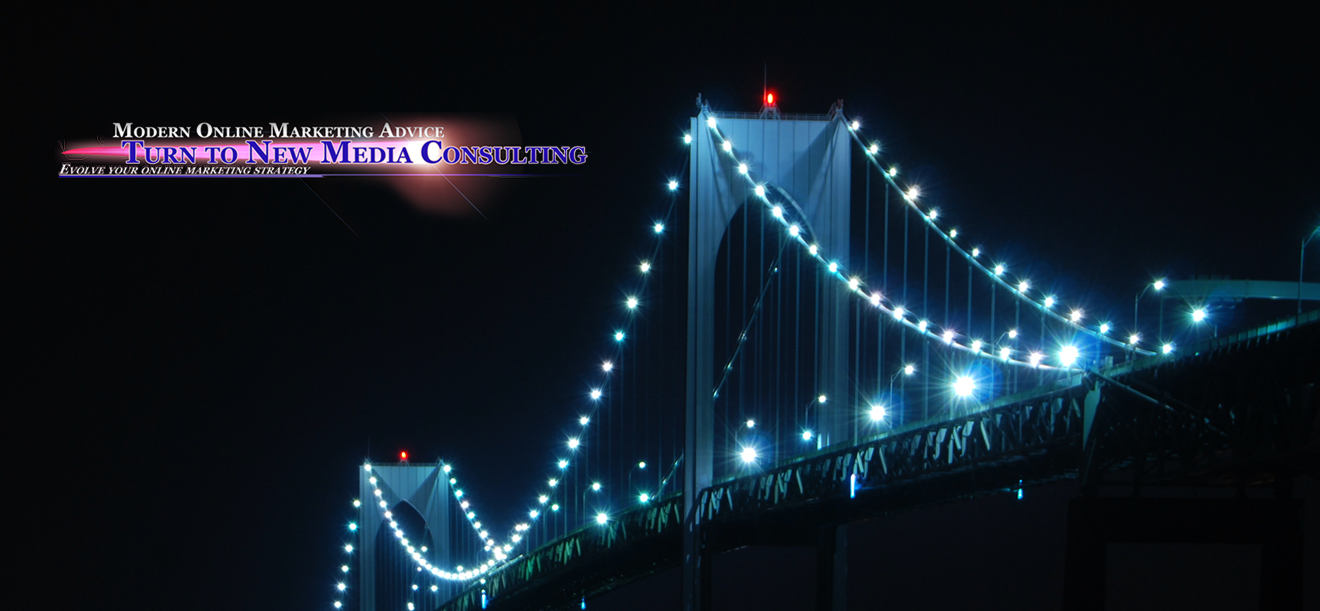 Turn To New Media - Startup Business Consultants

We Specialize in Startup Business Development
Turn To New Media Business Development Consultants understand that today more than ever reaching customers with your brand's value messaging is difficult. Online search is the new Yellow Pages and competition for visibility is daunting. While your business is trying to make customers happy with great service and doing everything you can just to keep up with the latest technology, how is it possible to maintain an online marketing presence when the rules seemingly change each month?
Turn to New Media will consult with you on the latest technology, innovations, strategies, and software. Let us help you to understand what needs to be done today in order to drive customers to your website, your front door, and into their hearts. Turn to New Media Consulting goes beyond the simple nuts and bolts of online marketing and helps you understand why your customers behave as they do online, how to attract them to your online business, where your website is succeeding in converting these prospects to customers and where your website is failing to retain and convert potential clients.
Turn to New Media Business Development is a Reseller
Although Turn to New Media partners with a number of web designers, web hosting companies, and hardware retailers, we maintain a complete vendor agnostic business model. We are in your corner with unbiased advice so that you can make the best decision possible on which company to host your online business or which company is best to design and code your website. We encourage customers to find the best value for their marketing dollars wherever and from whomever they wish. We are here to help you make an informed decision and the right decision the first time.
Turn to New Media Requires NO Contracts
Tired of being told that in order to surface your website to the top of Google you will have to pay a company a huge sum of money each month? Most often, SEO consultant companies take what is all of a few hours worth of work once and hook clients into recurring revenue contracts that never end. Turn to New Media is pay as you go, 100% a-la-cart servicing. You only pay for our time if and when you need it.
Nothing You do Will Succeed Without the Right Strategy
Turn to New Media is a strategy consulting company for marketing your online business. Talk to those you trust in any industry and ask them how much time they wasted working on and paying for products and services that were antiquated or simply useless in their attempts to earn new business both offline and online. At the foundation of every successful company is a strategy that works. Start with Turn to New Media today and take charge of every opportunity to earn new business. If the marketing advice you hear today sounds much like the marketing advice you heard a few years back, you are wasting valuable time and money.
Turn to New Media's Marketing Service Territory
Turn to New Media is based in Rhode Island. Many of our clients are geographically close to our headquarters, yet by virtue of the internet and the ever smaller world of business, our reach is limitless. Whether you are looking to build your online presence and customer base in Massachusetts, Connecticut, Vermont, New Hampshire, California, or Texas, Turn to New Media will help you understand the demographics of your customer base, their propensity to search for you online, and when they do search for the products and services you offer capture their attentions and earn their business.
Contact Turn To New Media today and for a free consultation and let us start you on the path to earning new, incremental business online like you have never seen before.
---